NEW PAGE ADDED 09-04-06! Go to the index of TV shows and look for The Suite Life Of Zach And Cody.
<! --title starts here --> The Many Roles Of Bernie Kopell
If you're a fan of classic TV, you've probably seen Bernie Kopell all over the airwaves, without even realizing it.  This site exists to chronicle as many of his roles as possible, to make it easier for the connoisseur of American pop culture (read: couch potato!) to spot the actor whom TV Guide once called "The Man Of A Thousand Faces".
Bernie Kopell was on The Love Boat for a decade (as ship's doctor Adam "Doc" Bricker).  He was also in Mel Brooks' 1975 TV series When Things Were Rotten, the short-lived Needles And Pins, That Girl, and of course, he was the arrogant German spy "Conrad Siegfried" in Get Smart.  But Bernie Kopell has also played numerous roles before and since.
Of course, spotting him in these roles is a bit of a challenge, because -- especially in the 1960's -- Bernie Kopell was either heavily made up, or speaking with a foreign accent.  So this page includes many video captures, to enable TV fans to identify Kopell on their favorite TV programs.  Please scroll down, to find the navigation links for this site.
Whether you're a fan of The Love Boat, Get Smart, or you just enjoy classic TV in general, hopefully you'll find something of interest here.  I update this site frequently, so please bookmark this page and stop back often!
If you can contribute any video captures, scans of clippings, or information, please contact me at mamoruATdraacDOTcom, replacing the "AT" and "DOT" with the appropriate symbols. You'll get full credit for the image(s) and a link to your web page, if you have one.  Also, don't forget to sign my guestbook, as you can promote your page there, as well!
Please follow the links below, to see what's new. (I will update this page as soon as possible...I'm caring for an ailing relative, so my online time is very limited lately.) The index of TV shows is in alphabetical order, listed by program title: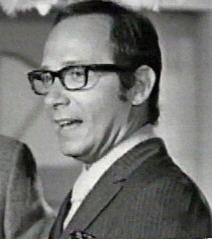 (To give you a head start in spotting Bernie Kopell in reruns, this is what he looked like in the 1960's, on the rare occasions he wasn't in makeup for some bizarre role!)

View My Guestbook * Sign My Guestbook

| | |
| --- | --- |
| This site built with | |